1968
The Festival Western de St-Tite
September 8th 1968 marked the opening of what was to become an international event: the Festival Western de St-Tite.
The idea for me simmered for a few years in what I like to call the collective unconscious of the Festival administrators. The Festival was gaining in popularity in the Mauricie region as well as in the strange and specialized world of rodeos, cowboys and everything that goes with them.
A mascot is a visual representation of something; a visual representative of an event. In the same way the festival evolves, my character also grows and has transformed, become animated, has adjusted and evolved to become what I am now. Let me tell you my story.
Who better than a cowboy, in the spirit of the heroes of the rodeo Coors Banquet grandstands, to represent the Festival Western? What I like to call the cowboy period marked the beginning of my family tree.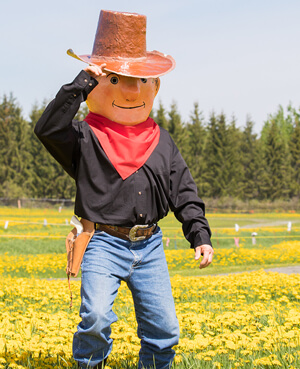 1986
First of my lineage
In 1986, the first of my lineage became a part of the Festival Western de St-Tite. His name was Poncho and he was a cowboy… probably one of the first mascots to represent a cowboy. I'm pretty certain that his name came from the Western movies that were very popular at the time.
His head was made from fibreglass. In hindsight, that may have been the reason for his short life. What could be more uncomfortable than wearing a fibreglass head all day and every day for two weeks? Poncho wore traditional cowboy clothing, including blue jeans, a black shirt, a bandana, a cowboy hat and boots.
When in Rome, do as the Romans do… In this case, when in the Far West, wear a six-shooter. Poncho was the only member of my family tree to wear a gun.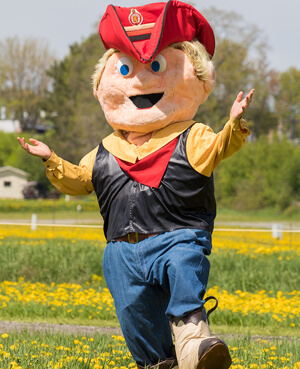 1987
New name, new costume!
Next year, Galop became the new face of the Festival, and replaced Poncho as mascot in chief. New name, new costume! He adds a waistcoat and a different coloured shirt. The hat took on the Festival's colour scheme and proudly displayed the Festival logo. His head's size, made from paper maché, inscreased, as well as his jeans and boots.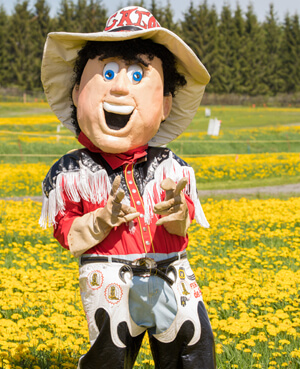 1992
The third character of my generation
The third character of my generation appeared in 1992. His longer face, made of plastic, has a huge smile and darker hair. Galop proudly wears a hat clearly identified with his name. He just looks like a real cowboy with his chaps and pickup man gloves! Faded blue jeans and red shirt with fringes : he perfectly reflects 90's fashion trends.
With his new image, Galop was ready to play an even more important role in the Festival which was also making serious gains in popularity.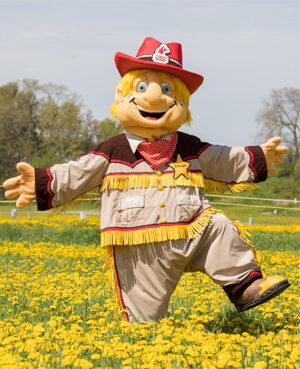 2000
The fourth Galop enters the 21st century!
A more snugly Galop ushered in the transition to the 21st century version of the Festival.
In keeping with Y2K mascots, Galop's persona transformed to become more festive, plumper and plusher while introducing Festival's new logo. His chubbier face is covered with freckles and his large and expressive eyes now wobble and wiggle to match his every move. Cheerful, Galop is always ready to high five his friends with his giant-sized fluffy hand!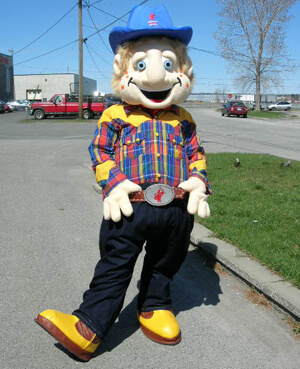 2007
5th of my generation
I am the fifth in line of mascots and I appeared on the scene in 2007 during the 40th edition of the Festival.
My plush toy appearance is more refined, my face has become more and more expressive and has softer lines and my eyes don't wobble any more! My hair is lighter, which seems to make me even more handsome.
My cowboy roots show in my checkered cowboy shirt with my name written on my sleeve, my dark blue jeans and my amazing belt buckle that proudly displays the Festival logo.
My hat is royal blue and my cowboy boots are the finishing touch to my outfit. Depending on what's going on during the Festival, I also choose among a yellow leather waistcoat, an orange-coloured padded vest, a raincoat and chaps for special occasions.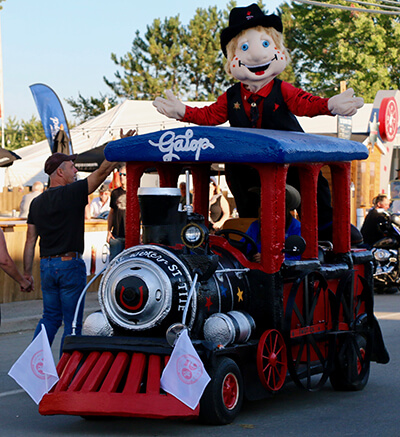 2017
50th anniversary of the Festival
For the 50th Festival's anniversary, I put on my redingote to celebrate this wonderful edition! As a proud ambassador of the event, I remembered some great memories with my Locobob, surrounded by my ancestors.
Being a mascot is amazing!
My life is full of unforeseen events, ups and downs, but especially awesome encounters. I wouldn't trade places for anything in the world!
I'm looking forward to meeting you here, which is home to me, at the Festival Western de St-Tite!