Nothing represents Quebec's country culture better than the Festival Western de St-Tite. For nearly 50 years, this ultimate unifying event has marked faithful festivalgoer's memories in an unrivaled setting.
The largest Western Attraction in Eastern Canada attracts more than 600 000 visitors in a usually 4 000 strong village during the 10 days of the Festival. It is undoubtedly a not-to-be-missed experience. The Festival Western de St-Tite is recognized for its breathtaking professional rodeos, major country western shows, festive atmosphere and an authentic character. All these are the key to its outstanding success.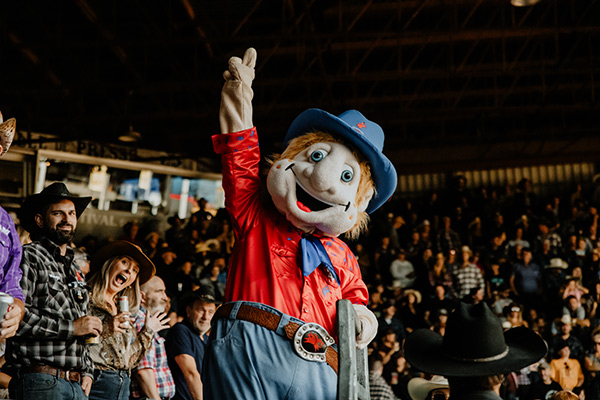 OUR MISSION
The Festival Western de St-Tite's twofold mission is to produce professional rodeos and activities aimed at re-creating an authentic Country Western atmosphere. While offering an incomparable ambiance, our goal is to maximize major socio-economic and tourist spinoffs for the town of St-Tite, Mekinac County and the entire St-Maurice Valley region. At the same time, we strive to widen our outreach at an international level.
OUR VISION
To be a model of excellence for Eastern North America in two domains; producing world class rodeos and organizing Country Western events.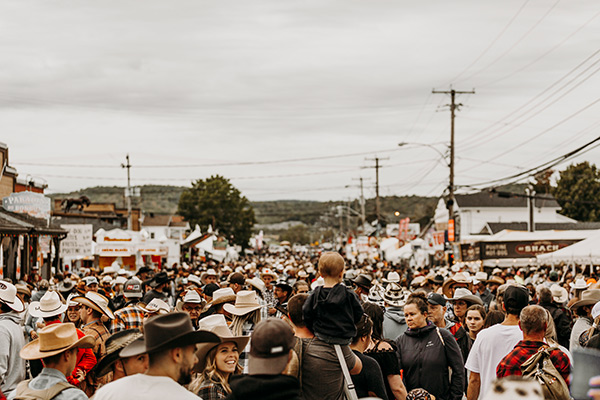 OUR VALUES
Everything we do at the Festival Western de St-Tite is informed by a strong set of core values. These values are shared by each and every member of the organization as well as by all individuals involved in contributing to the Festival's success.
INTEGRITY
Promotes honesty
DILIGENCE
Promotes courtesy
RELATIONS
Promotes mutual aid
RESPECT
Promotes harmonious relationships
PROFESSIONALISM
Promotes a sense of duty
LOYALTY
Promotes the preservation of organizational interests
WHO ARE WE?
More than 10 million dollar annual budget;
75% of our revenue is internally generated;
30 permanent and seasonal employees;
650 volunteers;
More than 600 000 annual visitors from all over Quebec, but also from Western Canada, the United States and Europe;
Since 1999, the Festival Western de St-Tite rodeos have won the "Best Outdoor Rodeo in North America" prize awarded by the International Professional Rodeo Association (IPRA).
TARGETED TOURIST GENERATED SPENDING
Value-added wealth creation for the province of Quebec reaching $18 million;
The activity generated by targeted tourist spending represents the equivalent of 387 jobs/year;
The economic impact of targeted tourist generated spending for 2010 represented $48million.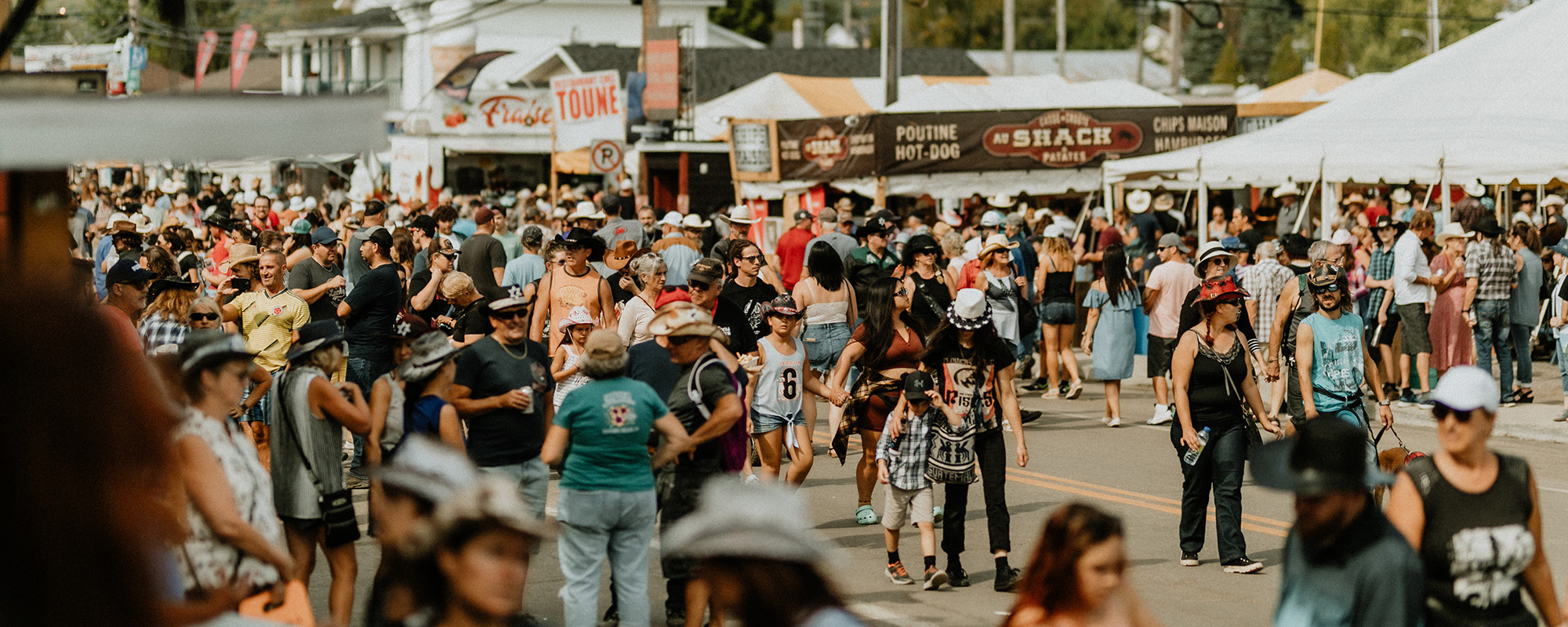 THE FESTIVAL BY NUMBERS
10 DAYS OF ACTIVITIES
On average, a Festival Western of St-Tite visitor is:
96 %
OF THOSE POLLED
said they liked their experience very much or enough
would recommend St-Tite to their family and friends
will return next year
For more information, see the highlights of the 52th edition!
CORPORATION
Madam Julie Adam
Madam Danielle Asselin
Mr Michel Aubichon
Mr Sylvain Bédard
Madam Josée Bédard
Madam Nicole Bédard
Mr André Boulet
Madam Julie Boulet
Mr Reynald Boulet
Mr Sylvain Bourgeois
Mr Pierre Buist
Mr Benoit Caouette
Mr Yves Caron
Mr Richard Champagne
Mr Michel Champagne
Mr Jean-Paul Charette
Mr René Cloutier
Mr Harty Délisle
Mr Réjean Gagnon
Mr Pierre Gauthier
Mr André Gélinas
Mr Gaétan Grenier
Mr Claude Grosleau
Mr Roger Hamelin
Mr Pierre Hélie
Mr Gaétan Jacob
Mr Pierre-Louis Jacob
Madam Cornelia Jucker
Mr Claude Lafontaine
Mr Christian Lafrance
Mr André Léveillé
Mr Gaétan L'Heureux
Mr Benoît Montreuil
Mr Yves-Marie Moreau
Mr Claude Parent
Mr René Plamondon
Mr Michel Pothier
Madam Diane Rae
Madam Annie Saulnier
Madam Josée St-Pierre
Madam Isabelle Tessier
Madam Odette Thiffeault
Madam Marie-Ève Tremblay
Mr Francis Trépanier
Mr Gilles Veillette
Madam Suzanne Neault
Madam Line Collin
Mr Hugues Carpentier
ADMINISTRATIVE BOARD
Mr Réjean Gagnon, Vice-President
Mr Pierre-Louis Jacob, Treasurer
Mr Francis Trépanier, Administrator
Mr François Rioux, Administrator
Mr Marc Ménard, Administrator
Madam Claire Désaulniers, Administrator
ORGANIZING COMMITTEE
Madam Nadia Moreau
Mr David Moreau
Madam Chantale Charrette
Mr Charles Abbott
Madam Cathia Laporte
Madam Karine Charette
Mr Sylvain Martel
COORDINATORS
Madam Josée Bédard
Mr André Boulet
Mr Sébastien Dubois
Mr Pierre Frigon
Madam Sandra Gauthier
Madam Julie Gentes
Madam Annick Guillemette
Madam Johanne Harvey
Mr Louis Frédérique Labbé
Madam Renée-Anne Lafontaine
Mr Robert Leduc
Madam Élizabeth Coutu
Madam Suzanne Neault
Madam Joanne Sirois
Madam Odette Thiffeault
Madam Caroline Tourigny
Madam Isabelle Bournival
Madam Kathleen Béland
Mr Alexis Rheault
Madam Laurie Berthiaume Lafrenière
Mr Nicolas Lefebvre
Madam Guylaine Houde
EMPLOYEES
Anne-Marie Lemire, General Manager
Sylvain Bourgeois, Rodeo Manager
Mélanie Comtois, Director of Development, Programming and Grants
Vanessa Denis, Communications Director
Klara Paquet, Communications Clerk
Gisèle Morin, Office Clerk
Benoît Carrier, Office Clerk
Guy Goyette, Foreman
Francis Moreau, Operation Director
Hélène Girard, Financial Controller and Brand Manager
Myriam Boutet, Sponsorship coordinator
Marc Pronovost, Foreman assistant
Stéphanie Boissinot, Operations logistics manager
Marie-Hélène Bougie, Accounting technician
Kim Durand, Ticket Office Coordinator
Mikael Boucher, Organizational ressource
FIELD TEAM
Gaétan Beaupré
Ghislain Bureau
Éric Sénécal
Jean-Guy Brouillette
Pierre Savignac
Danian Nutt