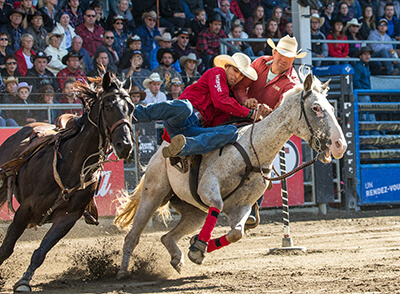 Event description:
Four poles are placed to form a standard-size rectangle inside the arena;
The event requires 2 horses and 2 riders;
At the start, one horse is in the middle of the arena, and the other starts the race. It must race around all four poles;
Between the 3rd and 4th poles, the middle horse gets close to the racing horse;
In the exchange zone (between the 4th and 1st poles), the contestant that made a full lap gets unto the middle horse while the middle rider dismounts;
The rider makes one full lap as fast as possible;
The racing rider must cross the finish line with legs on each side of the horse.
Event description:
Contestants must own their horse;
Best time wins;
Any pole that gets knocked down during the race disqualifies the rider;
The whole race is to be carried out at gallop or the team gets disqualified.